No, that is NOT a typo! PANTS FOR PROM! I was honored to be asked to consult with Everything for Formals this past weekend while they attended the Bridal and Prom show at the Merchandise Mart to purchase their spring lines for 2016, which of course includes buying for the biggest high school event of year, Prom. Being a teen style blogger gives me a different perspective on what appeals to us teens. I was beyond excited. The show at the mart is the time for designers to showcase their spring lines with fashion shows happening nearly every hour. This spring's collection does not disappoint! But what I really want to talk about in this blog is the hottest trend of the prom season, PANTS and the brilliant and intuitive designer who has just launched the freshest approach to prom season 2016.
One of the most iconic and well known designers in the pageant, prom and evening gown industry is Tony Bowls. His designs are couture with a capital C and have greatly influenced season after season of the formal fashion industry. His designs have gracefully floated across the stages of Miss America, Miss USA and Miss Universe. He was the official designer of the 2014 Miss America's Outstanding Teen national pageant. One could say that owning a Tony Bowls is the holy grail of gowns. After designing for another fashion house for over fifteen years, Tony Bowls decided to go out on his own and let me just say I was AMAZED and EXCITED about his spring line. First let me just say that Mr. Bowls was so incredibly gracious, I admit it, I was more than a little star struck. From the minute I walked into Mr. Bowl's showroom, I felt like I had arrived in a luxury boutique. But what transpired next blew me away as I saw what will be the new hot trend for the 2016 prom season, something so fresh and genius that it could only come from Tony Bowls.
I know, I know it sounds crazy, if I hadn't seen it myself I would think it was crazy as well but I am a believer! Think about the current crop top trend. A few years back, a crop top prom dress would have been a foreign concept and now it's featured in every designer line. Furthermore, a crop top pageant gown would have been frowned upon in the pageant system and this year we have seen winner after winner on the state and national level crowned wearing this style of gown with the latest being Betty Cantrell who was crowned Miss America, in a crop top gown. What is so exciting about these designs are that they combine what Tony Bowls is known for, couture, high fashion elegance, gorgeous bead work with an incredibly current and evolved design. With this line Tony Bowls has single handedly created what will undoubtedly be the look of fashion forward teens in the 2016 prom season. What I also really love is that he has bridged the gap between high fashion pageant and prom gowns with the everyday teen girl looking for an amazing prom look. And can we just talk about the ability to wear this for more than just prom? This is a design that you will be able to wear to any formal event. Gone will be the days of the prom dress hanging in your closet never to be worn again. In today's trend toward a sharing economy this is a huge selling point. Buying a prom dress is a big investment and largely one that is something worn only one time. This design is an addition to your wardrobe that will be something you can wear for many events. Again, genius Mr. Bowls, I'm pretty sure my Dad wants to shake your hand for giving his wallet a rest! And can we just talk about after parties? They just got a whole lot more fashionable because this is one design you will NOT have to change out of.   WIN WIN! Oh yes, I almost forgot….in a nod to my shoe obsession, this design allows you to show off those gorgeous shoes which are usually hidden underneath a prom dress.
Are you ready? Let's take a sneak peek at the hottest prom trend of the season: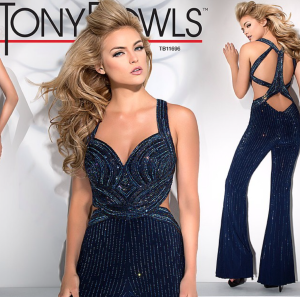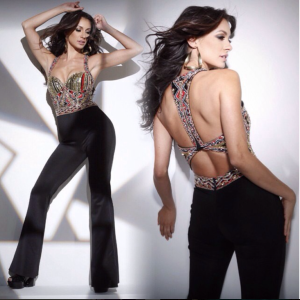 Pictures just do not even begin to show how stunning these designs are!  Make sure to check out Tony Bowls website for a retailer near you!
Thought for the day…..it is better to be remembered for a fashion faux pas than to not to be remembered at all, which is all the more reason to take chances when it comes to style.  Same thing goes in life, you will never know the path you should follow without making a few wrong turns along the way. So take a few chances.
KEEP SPARKLING!
XOXO,
Harleigh