January is my favorite month, because it marks the beginning of prom season when all the new prom dress styles start arriving in stores. Prom is usually the first truly formal black tie dance that we will attend and probably if you asked any teenage girl, she would tell you that besides graduation it is the event that we look most forward to. It is a magical time, we are about graduate and Prom is the time to celebrate with our classmates at last dance of our high school years. Shopping for a prom dress is an exciting time and there are so many beautiful styles this season which is why the next several blogs I will be talking about my favorite prom dress styles, trends and colors for the 2016 prom season.
Let me just say, there is nothing basic about black when it comes to prom dresses. A black prom dress is the definition of elegance. Black is traditionally a very popular color choice when it comes to a formal dress and when it comes to prom dresses, a black prom dress is a timeless classic that will never go out of style. Black prom dresses are dramatic and eye catching and give you limitless options when it comes to styling. As you know, I love bling, and there is nothing more stunning than a black prom dress that is embellished with crystals from a beaded bodice to a beaded waistband. Any color will work and look great against black and this allows each girl to show off her individual style. On top of that, you can wear any color shoes and accessories to give a pop of color. I also love the combination of black and white in a dress with a bold colored handbag and shoes, think fuschia for example. What is so cool about black prom dresses are that they can be beautiful and understated or full on dramatic showstoppers which is probably why according to prom dress designer Mac Duggal, black was a very popular prom dress color choice for last year's prom season and that is why black is my first hot color choice for prom dresses this season. This year some of my favorites are from the Mac Duggal collection, so let's take a look:
This gorgeous mermaid style black prom dress from Mac Duggal's Flash collection has a white band, which will accentuate your waistline and white bands around the skirt. For a classic look, consider pairing with white crystal earrings, black satin clutch and black satin heels with white crystals. If a little more drama is your style, consider a fuschia clutch and white crystal heels.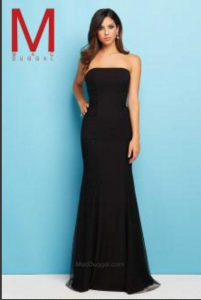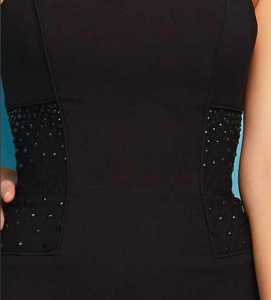 I am in love with the beading on this black prom dress. Take a look at the black crystals on the sides of the bodice and the gorgeous sheer panels with crystals from the hip down. The crystals will light up beautifully under the lights on the dance floor. For accessories, consider pairing a black rhinestone choker and a black satin handbag embellished with black crystals to match the dress. If you want to add a little pop of color, a white crystal cuff would be great or crystal bangles alternating with black and the color of your choice.
The two piece prom dress or crop top prom dress continues to still be a very hot trend this prom season. What I love about the two piece prom dress is that there are so many options for the skirt, from fabric to style. The skirts can range from straight, to full ball gown or mermaid style with fabrics of jersey, satin, chiffon or tulle. There are also a huge selection of styles for the top, beaded, halter, open back, and illusion. With so many gorgeous styles to choose from I predict that the two piece prom dress will be a look we will be seeing a lot of this prom season. Let's take a look at some of my favorite black two piece prom dresses for the 2016 season.
This gorgeous two piece prom dress has beautiful black beading and the buttons down the back of the top are just stunning.
This two piece with a slitted straight jersey skirt is a real head turner with the nude sweetheart underlay and the gorgeous intricate black beading in a halter style.
I love the beadwork on the top of this black two piece and the back is so stylish.
This is another gorgeous two piece black prom dress with capped sleeves and a mermaid style skirt with a beautiful overlay.
I love love love the geometric cutout on the top of this two piece!
This black two piece features a sheer long sleeve and is a super chic style twist.
The sleeves on this black two piece are EVERYTHING! I am loving the bell sleeve style for this prom season.
With so many gorgeous black prom dresses to choose from I could go on and on, so make sure to check out the gorgeous collection from Mac Duggal to find a style that is right for you!
Thought for the day…. Prom season marks the end of the high school years for seniors, but while it's an end, it's also the beginning of new chapter. Ask a few seniors and some will say they can't wait to move on while others are sad to be leaving. Last week in a high school in my area a junior committed suicide. I did not know him at all but it really made me incredibly sad. Look, we all deal with things, I have said many times I am just a regular girl dealing with the same issues as everybody else. For a teenager to take his life he must have been in very serious pain. If you are feeling depressed or alone please, please talk to someone. There is nothing in this world that is worth taking your life. I read somewhere recently that suicide doesn't take away the pain but gives it to the people who love you, and there are people who LOVE you. If you know someone who seems depressed, reach out to them. As a generation we have to take care of ourselves and each other.
As always…..
KEEP SPARKLING…and when needed, share some of your sparkle with someone who needs it!
XOXO,
HARLEIGH