Fall is here! I love the changing colors of the leaves. Even though I really love summer, I am always sort of ready for fall when it comes. I love sweaters and scarves and of course, boots. This fall there is no shortage of great new style trends for the fall season. My recommendation for fall clothing is to pick up items that are versatile, that's one of the reasons why a color palette for your fall wardrobe is a great idea. Now I am not saying that you should stick to only the colors you choose, but having a general palette makes it easier to mix and match without breaking your budget.
One of the hottest fall style trends for teens is the faux fur vest. I love this trend for so many reasons. First, the versatility, you can wear a faux fur vest with a skirt, a dress, or jeans and boots. It looks amazing and with so many styles you have a lot of choices with the cut that works best for you. I personally love the waterfall style and I paired mine with a suede skirt, Chinese Laundry fringe shoes, and a cream turtle neck.
In a carry over from the summer's hot trend, behold the winter romper! There are a lot of great fall rompers with long sleeves in warm colors and fall fabrics. I paired mine with cowboy boots, black lace top thigh high socks and a black hat. The cowboy boots are Corral and I found them at a store in Nashville on a road trip. A fall romper could also be worn with high riding boots, or high ankle boots.
It goes without saying that fall is the time for sweaters. My fall trend pick for sweaters this season is a sleeveless sweater. There is nothing worse then having a great jacket with slim sleeves and having to cram bulky sweater sleeves into it. Fall weather can be unpredictable, cool in the mornings and evening and warmer in the afternoons, this is why I like to layer. This style of sweater allows you to layer with a great jacket without the annoying feeling of bulky sweater sleeves underneath. I also fell in love with the leather strap on the neck, which gave this a pop of color and tied into the riding boots I wore with it. You could also throw on a blanket scarf for a great look.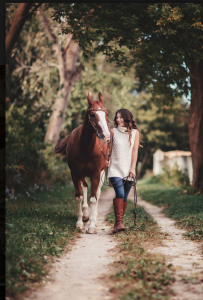 All of these looks are items in my closet and a lot of these could be interchanged to create different looks. And yes, the horse and the dog are my actual pets. My horse is named Flash and my dog's name is Shep. The photos were taken by my favorite senior portrait photographer, Stephanie Pana Photography. If you live near the Chicago area and want to book Stephanie, use my promo code, HarleighHearts for $50.00 of your session. Here's something about me that you might find funny….I wear a UNIFORM to school….TRAGONY (tragedy+irony).
Thought for the day……I wrote my blog in blue today in honor of World Bullying prevention day. Most of us have either been bullied at one time or know someone who has. It is the WORST feeling in the world, trust me I know. I could waste time and energy telling you some of the things I have dealt with but I honestly don't care to give them any attention. Imagine this, you are driving somewhere and you get cut off by an aggressive driver, are you just going to pull over and not continue where you are going? No, of course not, you are going to shake your head, be annoyed for a minute and continue to your destination without giving that person another thought. So the next time you encounter a bully, treat them the same way you would treat a rude driver on the street, shake it off and continue to where you are going.
KEEP SPARKLING!
XOXO,
HARLEIGH