It's fall, which means, back to school, football games, and HOMECOMING! I was honored to be able to return to the You & Me Show on the WCIU channel to share some of my picks for the hottest homecoming dress trends for 2016. I am a huge fan of being able to wear a dress again and have always tried to have staple pieces in my wardrobe that I can either accessorize to change the vibe of the outfit or pair with other items in my closet to create a few different looks. When it comes to choosing your perfect dress for homecoming, the first thing you need to decide is what kind of look you are going for. Are you looking for a more classic conservative look, a fun flirty look, or a full out glamorous look.   Keep in mind that traditionally homecoming dances are semi-formal events, which means a short length for dresses.
CLICK HERE TO SEE THE VIDEO
If you are going for a more classic look, nothing says classic, timeless and elegant like the LBD, also known as the little black dress. A black homecoming dress is something that you can wear to many events besides homecoming, which makes this an excellent choice if you are looking for more bang for your buck. Black homecoming dresses also allow a lot more flexibility in how you accessorize, meaning the sky is the limit when it comes to shoe colors and jewelry. Below is one of my favorite black homecoming dresses from Mac Duggal's homecoming collection. I love the small bead work at the waist line, not only does it accentuate your waist, but the beadwork gives it a pop of color and will light up on the dance floor. A huge plus is the jersey fabric which is incredibly comfortable proving that you can be both stylish and comfortable. Because of the unique nude panel on the neckline, I paired it with a black choker, another hot trend in accessories this season.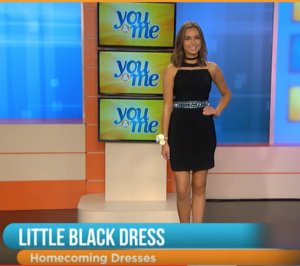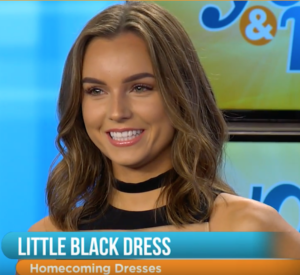 If your style is more fun and flirty, then a two-piece fall floral homecoming dress is perfect for you. The two-piece homecoming dress continues to be very on trend this season along with vibrant floral patterns. One of the greatest things about a two-piece dress is that you can wear the top again with a pair of jeans or shorts, which is an added plus if you are attending a party after your homecoming dance and want to be a little more comfortable while still looking great. Below is stunning two piece dress, also from the Mac Duggal  homecoming dress collection. I love the crystals on the top and the royal blue color is eye catching. The floral pattern on the skirt has gorgeous yellow, red and blue hues and will give you a ton of options for shoe colors and accessories and the pockets are great for holding your phone.
If you are looking for full out glamour and sparkle, then a dress that is beaded or embellished with crystals is the choice for you. Remember, while semi-formal traditionally means short length, it does not mean your dress has to be conservative. If you choose a beaded homecoming dress, keep the accessories to a minimum, the sparkle of the embellishments are all the sparkle you need and you don't want to overshadow the dress with too much jewelry. One of my favorite beaded homecoming dresses from Mac Duggal this season the this gorgeous turquoise dress with a stunning beaded bodice. The color combination and pattern reminds me of beautiful peacock feathers. This dress has an elegant ball gown skirt that also has pockets which are so convenient.
TO SEE THE FULL MAC DUGGAL COLLECTION CLICK HERE.
A few more tips about homecoming, remember, your feet may hurt or get tired and one of the coolest things I have ever seen are the compact fold up shoes from Sidekicks. They come in tons of colors and styles in a small carrying case that will fit right into your purse. Having such a convenient way to bring along a pair of flat shoes for later in the night is a huge plus and they are really reasonably priced.
CLICK HERE TO SEE ALL THE GREAT STYLES AVAILABLE
Finally, guys, remember, your date has smaller hands and wrists than you do, and nobody wants to wear a corsage that takes up half your arm! My favorite corsages are made with baby roses and come on a bracelet. Thank you Morning Glory Flower Shop for giving me these stunning corsages for the segment. The red corsage was placed on a rhinestone bracelet and the white corsage was placed on a pearl bracelet. The really awesome thing about these corsages, besides the fact that they are the perfect size for a girl's wrist is that after the dance, your date can cut the string on the back and she will have a bracelet that will not only be a great memento of the night but also something she can wear again and again.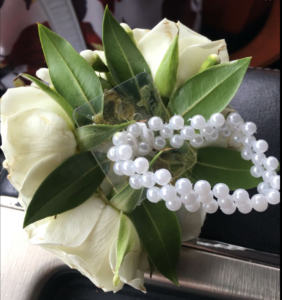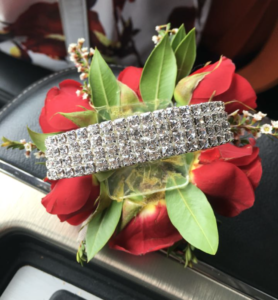 CLICK HERE TO ORDER YOUR HOMECOMING CORSAGE
Thank you so much to my beautiful friends, Olivia, Brittany and Lauren for modeling today! Happy Homecoming everyone, thanks for reading and as always…..
KEEP SPARKLING!
XOXO,
HARLEIGH
Thought for the day….I am blessed to have such great friends who are willing to get up at the crack of dawn and come out to model for me and that reminded me, the best part of homecoming isn't what you wore of who your date was, it's the friends that you are making these memories with.