My weekend was insanely hectic, but it was also very exciting. I had the opportunity to compete in the Illinois American Coed Pageant this weekend. This was my first pageant so needless to say I was a little bit nervous to see what was in store for me! Friday night was check in from 3-6 at the host hotel, The Sheraton Chicago O'hare Airport Hotel and that was followed by two of the optional competitions, talent and sportswear modeling. I competed in the sportswear modeling competition in a super cute, summer inspired outfit! My outfit consisted of a matching palm tree print crop tank top and high-waisted mid-thigh length skirt by Rachel Roy that I bought at Macy's. I accessorized with a set of black, gold, white, and tiffany blue bangles, a tiffany blue sun hat, blue dangle earrings, and blue shoes that were all bought at Charming Charlie. I've attached a picture below!
On Saturday morning I woke up and got ready for the interview and introduction portion! If you need help with introductions, email me at HarleighHearts@gmail.com, and I can help you or give you my coach's number! The interview was set up in the room where the stage was. All of the contestants in my age division lined up on stage in front of the judges. The three judges were all sitting at separate tables and one by one we said our introductions! After everyone went, the first three contestants went to a judge's table and stood with our backs to the judges. Once we sat down the interview was very conversational, and all the questions were about me or my profile sheet, or they were from the list of sample questions we were given. My outfit was a red Kensie dress, it was a tank top with a button up front with a sash around the waist. I dressed it up with a pearl necklace, pearl cuff bracelet and pearl earrings. I wore Jessica Simpson nude closed toe heels. I've attached a picture below of my outfit! (P.S. sorry for the blurry quality, we were in a huge hurry because we didn't want to be late!)
After the interview, we had a rehearsal! Mr. Michael, the director of the pageant was so patient and helpful to all the girls, especially me! After the rehearsal, I showered and blow-dried my hair. My pageant coach, wardrobe stylist, and hair stylist Jonathan Abernathy, owner of Platinum Images Styling, came to my room to do my hair. Kasey Surges did my makeup perfectly. Everything was in preparation for the evening gown portion. We walked the pattern that Mr. Michael taught us! After the evening gown portion was over, we had a two hour break in which I had a photoshoot, I've attached some pictures.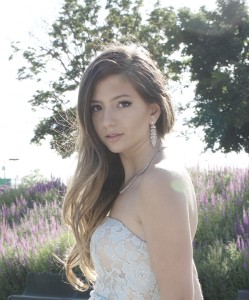 After the photoshoot, and some appetizers with my family and some of our new friends, we went into crowning. I placed 2nd runner up overall as well as 1st runner up in photogenic and 1st runner up in sportswear modeling! Overall this pageant was a great experience and I'm super proud of myself for my placement in my first pageant! Let me know if you've ever competed in a pageant and what you thought of my outfits! Remember, Keep Sparkling!!
XOXO,
Harleigh