PROM DRESS TRENDS
I had the honor of appearing on the You & Me show on WCIU to discuss my top picks for the hottest trends in prom dresses this season. I am always excited each year when the designers roll out their spring prom dress collections. It's chance to take a look at the hot new prom dress trends and color trends for prom. This year's collections do not disappoint and one of my favorite designers for prom dresses is Mac Duggal.
TWO PIECE PROM DRESS
One of the hottest trends which is a carry over from last year is the crop top prom dress also known as the two piece prom dress. One of the things I really love about the two piece prom dress is that it is versatile. Most seniors attend after parties when prom is over, and usually change clothes. I don't know about you, but for me personally, I want to wear my dress as long as possible. The great thing about the two piece is that you can continue to wear the top even after prom is over. You can wear it with jeans, shorts, or a mini skirt. The other thing that is great about the two piece prom dress is that the skirt comes is so many great styles, making the two piece prom dress one that can be worn by girls with different body types. A straight skirt works well for those with slim athletic bodies, a mermaid style looks great on those with an hour glass shape. For pear shapes consider an a-line skirt or a ball gown skirt.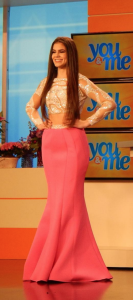 FLORAL TWO PIECE PROM DRESS
Another of my favorite trends for the 2016 prom dress season is the floral pattern. To me, the floral pattern is very feminine and has an old southern charm vibe. Floral is also versatile because with so many options for the colors of the pattern, it is flattering for many different skin tones and hair colors. Here is one of my favorites from the Mac Duggal Prom collection. What I love about this dress is the ALine skirt, the blue hues in the floral pattern and the beautiful beading along the neckline in the top. It is a perfect pairing of two of the hottest trends this season, the floral pattern done in a two piece style.
MERMAID PROM DRESS
A tried and true classic style in prom dresses and another if my top picks for prom dresses this season is the mermaid style dress. This style is very figure flattering and really creates a beautiful silhouette. One of my favorites from the Mac Duggal collection is this gorgeous mermaid dress done in a hot color for spring, mint. I love the gorgeous white lace applique on the bodice, the sweetheart neckline, and the matching mint colored pearls on the lace. The skirt is done with gorgeous large waves of fabric rather than a straight mermaid skirt.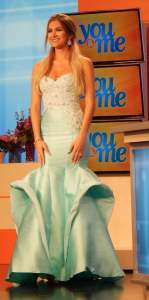 BALL GOWN PROM DRESS
Another hot trend I am loving this year is the ball gown style done with a great new twist, pockets! One of my favorites from Mac Duggal is this gorgeous ball gown with stunning crystal beading on the bodice, in a sweetheart neckline in another of my favorite color trends, a gorgeous sapphire blue. Jewel tones are deep gorgeous colors that have a super rich and dramatic feel.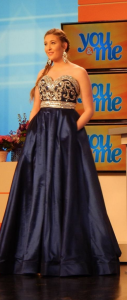 FULLY SEQUINED PROM DRESS
Everyone who knows me knows I love bling….and what would prom be without a gorgeous fully beaded dress. This dress from Mac Duggal's collection is one of my favorites for so many reasons….first it is done is a hot color trend, soft baby pink. The sequins are iridescent so depending on how the light catches them, they also have a soft blue appearance. I also love the open back on this dress which is super flirty and the geometric pattern of the sequins combined with the sheer illusion panels creates a stunning silhouette.
Remember, prom is your time to show off your style. Experiment and be open to trying on different dress styles, you might be surprised to find that you love a dress that is totally different than what you originally thought you wanted. While these dresses are my top picks for hot trends for this prom season, there are literally hundreds of styles to choose from in Mac Duggal's 2016 Prom dress collection.
Thought for the day…..there is no end to beauty and no single definition of beautiful. When I was working on choosing my favorite styles for the You & Me show, it dawned on me that while each of the styles of the dresses I loved were different, they were all equally beautiful, even though they are so different. Same thing goes with people. There is no one idea of beautiful and beauty truly does come in all different shapes, styles and colors. So just remember, you are as uniquely beautiful as the dress you choose!
As always…..
Keep Sparkling!
XOXO
Harleigh