I recently was lucky enough to have the chance to meet Sherri Hill in person and to see the new 2016 line of pageant gowns, prom dresses and homecoming dresses up close and personal at the merchandise mart in Chicago.  I can't even put into words how exciting it was to meet Sherri Hill in person and to get a sneak peak at this gorgeous new line that she just unveiled earlier this month at Mercedes Benz New York Fashion week.  The  photos don't even come close to the stunning beauty of her designs and she is quite honestly one of the nicest people I have ever met.  She is genuine and kind and so incredibly gracious, probably one of the highlights of my life for sure!  She took the time to ask questions about me and while I have always been a huge fan of Sherri Hill designs, I am now a huge fan of the designer herself.
Sherri Hill's Spring 2016 line of pageant gowns, homecoming dresses and prom dresses
When it comes to homecoming dresses, pageant gowns and prom dresses you can never go wrong with a Sherri Hill design. Her attention to detail, beadwork, and style diversity have catapulted Sherri Hill into a trend setter for teens and women alike. Her styles appeal to girls, teens and women of all ages and her designs make her one of the go to designers for a special occasion gown. With so many choices, there is something for everyone! I am a huge fan of her designs and whenever fashion week rolls around I can't wait to see what Sherri Hill comes up with next. She never disappoints and this year, Sherri Hill's Spring 2016 line is no exception! So here we go, let's break it down.
A gorgeous new trend, which I like to call Southern Charm was front and center at New York Fashion week on the Sherri Hill runway. The reason I nicknamed it Southern Charm is because of the floral patterns, something that is fresh and new combined with the full ball gown style. What I also love is seeing that Sherri Hill has beautiful ball gown styles in both a short and a long design version. The ball gown style gown has always reminded me of Scarlett O'Hara and vintage debutante ball gowns. I also think the ball gown is a great design because it accentuates your waistline and works well on all body types, curvy or slim. Let's take a look at these gone with the wind fabulous gowns:
Floral and Ball Gown Styles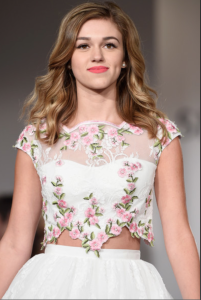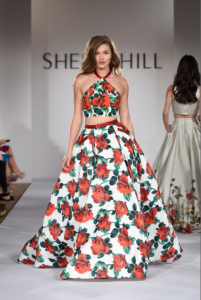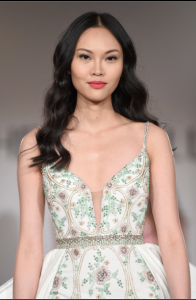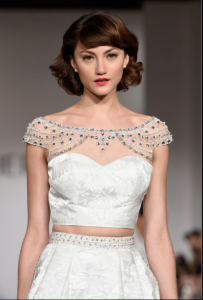 In keeping with the vintage Hollywood theme, Sherri Hill's spring line featured show stopping vintage Hollywood era glam gowns in a beautiful array of colors, from soft salmon to deep royal purple. These figure hugging fit and flare style gowns are EVERYTHING!!! From the gorgeous draped open backed designs to the intricately beaded designs and classic elegant satin style fabrics, there is no end to the beauty of these gowns. Let's take a look:
Hollywood Glam Gowns
In a departure from the Hollywood era inspired designs and a stunning example of the diversity of Sherri Hill's design genius, this year's line also featured Bollywood and eastern inspired designs which are both exotic and eye catching with the intricate beading designs and patterns. In both sari style crop top styles in long and short as well as standard cocktail length and evening gown length, Sherri Hill proved once again why she is one of the top trend setting designers!
With homecoming season upon us, proms right around the corner, and pageants, it's never too soon to begin looking for your special dress. A Sherri Hill design is an excellent choice and well worth the investment. Take a look at my blog on the Miss Illinois Teen USA pageant for the Sherri Hill gowns worn by myself and four of my friends, including the newly crowned Miss Illinois Teen USA 2016, Olivia Pura.
Thought for the day…. we are only young once, now is the time to discover yourself, and become the person you see yourself as. We will make mistakes along the way, both in fashion and in life. Learn from them and grow from them. It is not how we stumble that will define who we are and who we become, it is how we get up and dust ourselves off. So don't be afraid to laugh at yourself, be kind enough to forgive yourself (and others) and be brave enough to try.
KEEP SPARKLING!
XOXO
Harleigh