Last week I attended New York Fashion Week for the fall and winter 2016 women's collections. I was incredibly excited to land an invite to the most coveted show of the season, the Tommy Hilfiger FW 2016 Women's Collection. As a teen style blogger I am always looking at the style icons of our generation for inspiration and to keep on top of the new teen style trends. If you ask any girl my age who her style icons are, there are a few names at the top of the list, and Gigi Hadid is the name on everyone's lips these days. She is not only gorgeous, her personal style is perfection. Already named as a brand ambassador for the Tommy Hilfiger label, it was recently announced that Gigi had collaborated on a new line with Tommy Hilfiger, which will debut in the fall. It is, in my opinion the perfect storm, the iconic style that has been the trademark of Tommy Hilfiger's collections in his thirty year career as one of the top designers in the industry paired with Gigi Hadid, the trendsetter of today. Tommy Hilfiger's show this year included an "insta pit," for style watchers, style bloggers and trend setters with huge followings on instagram. It was a brilliant decision and a testament to his ability to understand what it means to be current as a designer. Traditionally, fashion week is reserved for industry people only, not open to the public. In a nod to the ever growing power of social media heavy hitters, Tommy Hilfiger broke the tradition and I would venture a guess that other designers will follow in his foot steps. His bold move proved that his ability to be a trend setter goes beyond his collections.
Let me just say I can't even begin to discuss the collection without talking about the amazing venue. The show took place at the Park Avenue Armory, which was turned into the TH Atlantic. Visually it was stunning, a gorgeous ship with a deck runway under a beautiful starry night sky. A gorgeous way to showcase the nautical themed collection! From beginning to end, no detail was left undone as only Tommy Hilfiger can do.
So let's get to it….THE COLLECTION! The collection has a beautiful feminine feel, a mix of vintage with a very current vibe. I once had to do a project for school (yes I still have to deal with that pesky thing called homework, I am a TEEN blogger) and I had to create a magazine cover and I used the famous kissing sailor photograph from Times Square. To me that is the vintage feel of the new collection, the sailor inspired designs along with the gorgeous dresses with peter pan collars but so incredibly current, from the wool cape, to the gorgeous sailor crop top and a sailor themed mini skirt. I am absolutely in love with this collection so let's take a look:
THE VIBE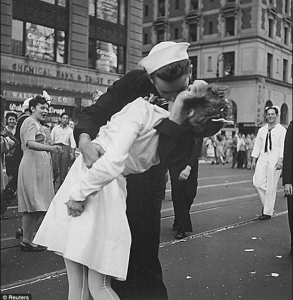 THE COLLECTION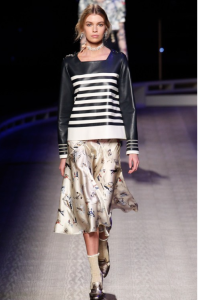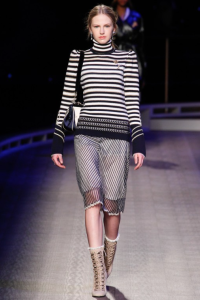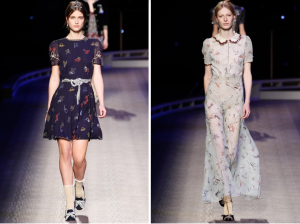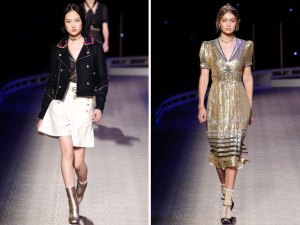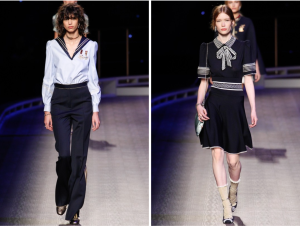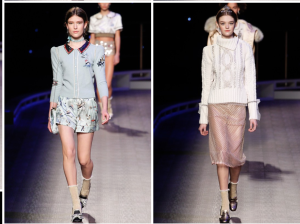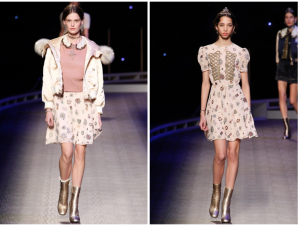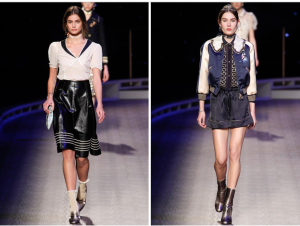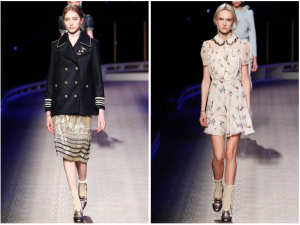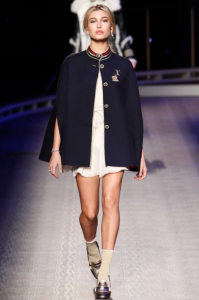 If you are like me you can't wait to get your hands on a few of these gorgeous pieces (ok ok I want them ALL but I have to be reasonable) but you will have to wait a little while longer, at least for now. This collection will be hitting the stores in a few months. In the future though, the Hilfiger brand is moving towards immediate availability of collections debuted on the runway…but not quite yet. In the meantime, make sure to check out tommyhilfiger for spring!
Thought for the day…..don't give up on achieving your dreams and goals. If you give up on yourself then others will give up on you too. Every day, do at least one thing to get closer to achieving your goals, even if it is something small. Stay focused and work hard and the rest will fall into place. Sometimes the biggest obstacle standing in your way is yourself. So what are you waiting for? The first step is ALWAYS the first step. You can do it!
Next week-more stories from the runway at New York Fashion Week!
As always…..
KEEP SPARKLING!
XOXO
Harleigh