With the holidays behind us it's time to start thinking about……PROM DRESSES! The 2016 prom season is in full swing with designers rolling out their 2016 Prom Dress collections. Before you start your search for the perfect prom dress let's take a look at some style basics to give you a starting point. Each of us are unique, we have different skin tones and body types. Certain prom dress colors are better for skin tones than others, and certain prom dress styles work better for certain body types, so let's start with a few basic tips to help guide you.
There are four basic skin types:
Fair skin
Medium skin
Olive skin
Dark skin
Fair skin usually falls into two types of undertones, cool or warm. A fair skinned person with cool undertones usually also has dark brown, black or ash blonde hair, with pale cheeks. Think Amanda Seyfried, Anne Hathaway, Reese Witherspoon or Scarlett Johanson. Traditionally, if you have fair skin with cool undertones you will want to steer away from light or bright colors, pastels, neons, black or white. These colors will not bring out the best in your skin and can tend to wash you out making your skin appear pale. The best colors for fair skin with cool undertones are rich colors and jewel tones, think red, raspberry, emerald, turquoise, amethyst, and rich purples. If you love metallic, avoid silvers and stick with golds.
A fair skinned person with warm undertones usually also has red, golden blonde, chestnut or strawberry blonde hair and sometimes freckles. Warm undertones also tend to have sort of a peach hue. Think Nicole Kidman, Gisele Bundchen, Jessica Biel or Cameron Diaz. If you have fair skin with warm undertones your best bet is also to avoid light bright colors, neons, white or black. The best colors for fair skin with warm undertones are earth tones, like browns, champaigns, blush, ivory, peach, apricot, rosy pink, rosy red, mauve, olive, emerald, navy or grey.
If you have medium skin, you will also want to avoid light colors and pastels. These colors will tend to make you grey. Stick with jewel tones, such as royal blue, sapphire, emerald, red, amethyst. The color should be rich and deep. You will want to avoid browns, beiges, and oranges.
If you have olive skin, you can pull off nearly any color….but the top picks for olive skin would be bright pink or orange.
For dark skin you will want to avoid brown, black, navy blue or silver. The best choice for dark skin is light pastels in any color, gold, copper, orange, yellow and bright colors, such as watermelon or coral.
After determining the best color for your skin type, you will want to choose a prom dress style that is best suited to your body type.
There are six basic body types:
Slender/Athletic
Hourglass
Pear
Apple
Busty
Petite (under 5'3)
If you are busty, the best option is to draw attention to your face and create a more hourglass silhouette. You should avoid strapless and spaghetti straps and opt for a top that allows for more support and a neckline that elongates the bust area, think halter top, V-neck or scoop neck. To elongate your midsection consider a drop waist.
For Petite body types, an asymmetrical hem will make you appear taller, try to void full ball gown styles as they could overwhelm your small frame. A sweeping prom dress style is a good choice but if you really want to add inches, consider a comfortable platform style shoe and the dress hem should just touch the floor covering the shoe.
For Apple shapes the trick is to choose a dress that draws attention away from your midsection but that will highlight other areas. Think empire waist with beading detail. A strapless dress will draw attention up to your face and one shoulder prom dresses will work great as well!
For pear shapes you will want to accentuate your thin upper body and draw attention away from your hips. Think strapless or halter style and empire waist work great too. Ball gown strapless prom dresses are also great options to show off your waist while camouflaging your hips.
If you have an hourglass shape the best dress style is the trumpet or mermaid style. This cut will create a beautiful silhouette and show off those great curves. Strapless, halter or cap sleeves will enhance the trumpet skirt. Be careful of the fabric as some fabrics may make you appear heavier.
If you have a slender/athletic shape, your best prom dress style choice are slim fitting dresses. Slender body types are also the best suited for jersey fabric dresses.
This past weekend I walked  in the Hannah's Boutique 2016 Prom Fashion show. The show featured all the newest styles for the 2016 prom dress season. If you were unable to attend, please visit Hannah's Boutique online or visit the store at: 9644 W. 131st Street, Palos Park, Il to take a peek at all the new styles and to get started to finding the perfect dress for prom!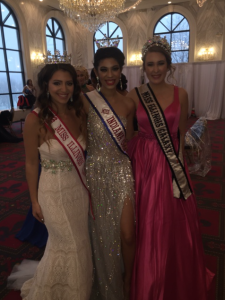 Thought for the day…..I am grateful and appreciative that my parents can afford to help me purchase my dream dress for prom, unfortunately there are many girls across the country that will not be able to purchase a prom dress this season. If you have a prom dress that you no longer need I hope you will consider donating it to the Glass Slipper Project, an organization that provides prom dresses and accessories to girls helping to make their dreams come true.
Next week I will talk about my favorite designers and favorite prom dresses of the season!
As always…..
KEEP SPARKLING!
XOXO,
HARLEIGH