It's true, I really do love my boyfriend jeans. I am a big fan of any clothing that is versatile, that's why I think boyfriend jeans are a must have for every closet. First, let's talk about comfort, boyfriend jeans are the most comfortable jeans you can own. They are designed to be well worn and soft right off the rack. They fit and feel like a pair of jeans you have had forever. You can get them super distressed, shredded, just slightly distressed or not at all. You can also get them in any color, from dark indigo to white and any color in between. My personal favs are slightly distressed in a medium blue jean color. The other great thing about boyfriend jeans are that you can create any look you want, from dressy to casual depending on what shoes and shirt you wear. Boyfriend jeans are a perfect example of bohemian chic. Let's take a look some different ways to wear your boyfriend jeans.
For perfect ways to dress up boyfriend jeans take a look at Nicole Ritchie, she dressed up her boyfriend jeans with a gorgeous multi colored jacket, black and white heels and a beautiful clutch. To pull in some of the colors from her jacket, she wore a belt:
Here are some ideas on how to put this look together. For this look, I chose a lighter colored boyfriend jeans to bring in the light blue in the jacket. Also, if you are dressing up your boyfriend jeans, I think the jeans should not be totally ripped or shredded, just relaxed looking. I chose a side buckle belt, which is really on trend right now in a hot pink color, again to pull in the pink from the jacket and I finished the look off with a hot pink textured pump and a black plain fitted shirt.
Here is another great look, worn by Gigi Hadid: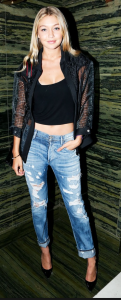 Using the same tank and jeans from above, you can pair it with one of these two great jackets:
Of course boyfriend jeans can also be worn casually too, take a look at these great casual style boyfriend jean looks:
How can you not love these great jeans with so many different ways to wear them not to mention how great is it to look great and be incredibly comfortable too!
Remember, clothes are just something you wear on the outside, and while looking good can also make you feel good, style is who you are so be your own kind of beautiful…..and KEEP SPARKLING!
XOXO
Harleigh