Style is not just what you wear, style is also who you are. I was thinking about it the other day and I decided to try to say a little something each week not just about great outer style but great inner style. Being a teenager is tough sometimes. As girls we deal with all sorts of issues, and when it comes to style and fashion we can deal with body image issues. If you are reading this, you are beautiful, period. It doesn't matter if you are tall, short, thin or not, you are beautiful. Like I said, style is not just what you wear outside, it's who you are inside, so KEEP SPARKLING. Now down to business…..
Once upon a time I used to be a competitive figure skater. One of the things I loved about competing was that moment just before the music started, when I was standing on the ice alone, just me, my skates and the ice. Sometimes I excelled, sometimes I fell, but no matter what happened in those next two minutes, being a skater taught me how to pick myself up and just keep going, no matter what. The other thing I loved about skating…..the skating dress. Illusion is style you see at many skating events, heck even the tights are an illusion, because they are opaque, but they look like they are sheer. That's what is so cool about the Illusion style prom dresses and party dresses, the fabric used can make it appear like you have crystals or lace just floating on your skin. This is something that we see in the bodice of illusion prom dresses and also on the back. Either way, it's just stunning because it creates a sort of magical look. Sometimes the fabric is sheer, and it can also be opaque if done in a skin tone color. My personal favorite Illusion dresses are done with nude fabric. Illusion prom dresses allow for a free flowing design with unusual edges. It also gives the option of having the appearance of a backless dress without actually being backless and it gives the dress a more structured feel when you are wearing it. Illusion bodices can look like a choker or statement necklace that flows into a beautiful sweetheart neckline. I also love a lace overlay onto a nude underlay. It's a beautiful and natural looking contrast. These endless options in the illusion prom dress are why Harleigh hearts the illusion style.
So you are going to prom, you've got the beautiful illusion dress, what do you do with your hair? One of the great prom hairstyles that is trending this year is side swept. A side swept style allows the back of an illusion dress to become a focal point, I mean what's the point of having a really cool back on your dress is no one can see it. If you are like me, you want to wear your hair down, what's great about a side swept hairstyle is that can be done with your hair down. It's really a glamorous look. But if you like an updo, the side swept updo, with loose waves is another gorgeous look. If you are wearing an illusion prom dress a side swept prom hairstyle is a great way to go.
Ok you have got your illusion prom dress and you have chosen a side swept hairstyle, what do we do about shoes? Let me first say that comfort is important. You are going to be on your feet for a long time, the shoes should not be hard to walk in or dance in. One thing I suggest is a thicker heel. Having a thicker heel on the shoe gives you more support and comfort, they are easy to walk in and you can still get a decent sized heel. One of my favorite style of prom shoes is a thicker heel but in a see through material in a strappy sandal style. Think Cinderella and her glass slipper. The clear color heel goes along with the illusion theme and the strappy sandal style allows for beading around the toe. Scroll down to see a few photos of some great illusion prom shoes and be ready go dance the night away!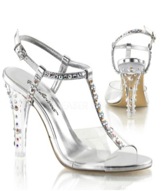 Thanks for reading, scroll down for my color picks of the week under Harleigh's Hues News and just remember…..KEEP SPARKLING!
XOXO
Harleigh
Harleigh's Hues News color picks:
Tangerine
Saffron