I sat down with Chicago makeup artist Kasey Surges of Kasey's Makeup Artistry to ask her some question about what her favorite makeup products are and for some makeup tips. Kasey is one of the best makeup artists in Chicago.  She does bridal parties, special events, pageants, photo shoots, prom, homecoming or any event you want to look your best. Kasey also does makeup lessons, so if you need some lessons, are looking for a new look with your makeup, or competing in a pageant, be sure to book a session with Kasey at: www.KaseysMakeupArtistry.com and make sure to check out Kasey's portfolio.
Q. What is your favorite makeup look for the summer, how can girls achieve it?
A. With summer, comes heat and humidity, so long lasting makeup is difficult to maintain. That being said, I like to keep it simple- dewy skin, a bronze eye, mascara & a pink gloss is all you really need. I recently came across a lovely product by Perricone! It is called "No Foundation Foundation Serum". It comes in 1 shade, but there is a bronzer with the same consistency you can buy if you need to adjust. It's great for summer because it is light weight, nonirritating, buildable, and affordable. It dries semi-matte, so I think adding a touch of a glowing bronzer to the highlighting areas will really make it stand out. As for eyes, unless you want your makeup to slide off, you need a primer, like Urban Decays Primer Potion and then add a copper shade to the lid (copper is a universal color that looks good on every single eye color/tone), and blend it into the crease with a mid-skin tone- brown and just add mascara!
Q. Eyeliner can be HARD! What are your suggestions to keeping the lines even?
A. Eyeliner just takes practice and a steady hand. Every morning I have at least 350 mg of caffeine, especially for huge bridal parties- the first bridesmaid I'm always like "ok I'm so sorry, don't mind me but I have a lot of caffeine in me and my hands are shaking… so I'll need extra time on your liner..". But I would just experiment with different products, find what you like. Personally I think liquid is the fastest and easiest. I always wipe the excess product off on a tissue, and start in the middle. The tip applicator (the thinnest part) is pointing towards the tear duct on a slight downward angle. I start in the middle, slide to the end of the eye and take whatever is left and get the inner corner. To get the inner eye corner, I always have them look down and to the side, that way it stretches the skin and you can get every part evenly.
Q.  What is your favorite product of all time?
A.  My obsession is the Make Up For Ever Flash Palette. It comes in a narrow rectangular package, and is filled with 12 crème, vibrant, pure pigments. If you understand color theory, you can make any color/ tone/ shade you can think of. Whenever I take it out people have no idea what it would do, so I show them! I can mix custom lip colors, foundations, eye shadows, brow colors, etc. I also like it because you can color correct and conceal, that's how pigmented it is. Lets say your foundation is too pink- you can add a touch of green to neutralize it, and add either the yellow or peach shade to add warmth, depending on your skin tone. I think everyone would buy it if they knew how to use it, it's affordable, convenient, versatile, and it's fun seeing what you can come up with.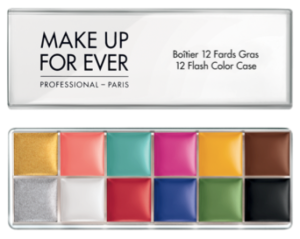 Q. What is your favorite application tool?
A. The only tool you will never forget are your hands. I actually use my fingers to apply a lot of things, not only because it easily presses product to the skin, but because it's easier to put hand sanitizer on and one less brush I need to clean. But because you can't apply everything nicely with your hands, I would say the Beauty Blender is. I like that it doesn't leave too much product on the skin, and it gives a flawless finish. The only downside is that it's not the most convenient thing to clean, but I love that you can use it for every single step in a makeup application.
Q. I know you do airbrush makeup as well as regular, what is the difference?
A. There is a lot of differing factors in the two. It depends on the artist using it, their products, the airbrush machine, etc, so I can't speak on behalf of every MUA in the world. Airbrush has the ability to lay perfectly on the skin, but you can get in every hard to reach place with liquid easier. Weather plays a huge factor as well. In the cooler months, I think airbrush holds better because you won't be sweating and won't need as many touch ups. From my own experiences, airbrush can be compared to a coat of nail polish. If everything goes smoothly, it looks perfect- but if you accident bump it & it smudges, sometimes you have to redo the entire nail. A lot of airbrush foundations oxidize and aren't true to color. So if you notice the color is off, it's really hard to blend and correct without starting over… if you put too much on, you can't just blot it off. Airbrush also needs to be 100% dry before you touch the skin, and that goes for fingers, brushes, products, sprays, etc…Airbrush is definitely a pro product with a lot of technique/ practice/ experience, it takes a lot more that an air compressor and some foundation to use it well!
Q. Readers are wondering what makeup remover can get all their makeup off without them worrying?
A. It depends on what someone is trying to take off.
For a full face, I like using cold cream. I was told it's an old lady product, but whatever, idc. It's a thick cream/lotion with an oil mixed in- I like Ponds or Jergens. I generously apply it all over and really work it into the skin, and wipe it off with a damp washcloth & follow with my skin care routine. For mascara, you need to be gentle, so I like using oil based removers, it doesn't have to be anything fancy, but I find that baby oil works well. For little mistakes, you can grab anything with slip to it. I take a lot of makeup off with normal lotion because I feel that a lot of removers can leave it streaky. I would also avoid using wipes, unless it's for quick uses like mistakes/ the gym/ your only option. It takes forever to take everything off and I would rather spend my money on things besides makeup wipes that will last a week.
Q. I've noticed from reading your blog you love Revitalash, tell us what it is and why you love it so much!
A. I'm always getting asked if my eyelashes are real/ wearing lashes/ have extensions, and I have Revitalash to thank. A classmate at Makeup First recommended it to me and I have been obsessed ever since. The product is a liquid you apply to the root of your eyelashes (I would do once in the morning and once at night) that helps your lashes grow thicker, longer, and wispier. It generally takes 4-5 weeks for you to notice a difference in length but the product lasts like 5-8 months depending on how often you remember to use it. Originally, it was developed by a man who wanted to help his wife regrow her lashes from losing them in chemo, so you know it's not some rip off product. I have my whole family and a few coworkers hooked on this, and I love seeing the process!! This runs for $70-$90, the price varies on different websites. But the 3.5 ml is the best deal, and you can find on Amazon for like $80.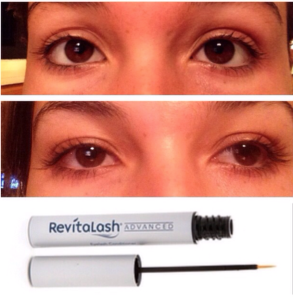 Q. What is a product you absolutely hate?
A. I don't necessarily have a product I hate, every product can be put to use for someone's skin tone/ type/ texture, etc. I do have a pet peeve though, and those are the YouTube beauty vloggers. Makeup is fun but a lot of these beauty vloggers are wrong. They test out these products that they wear for a day, and give "reviews" on them. I don't understand how someone can accurately review an item they have been wearing for 25 minutes. Foundation, for example- research the product, know and understand the ingredients, wear it all 4 seasons, wear it without skin prep, without powder, without setting spray and then give your opinion. For most girls who have no idea how to apply makeup, it might be good exposure just to get an idea, but MUA's in the real world don't have the time to do blend 18 contour shades for a bridal party of 9, and honestly most girls are beyond terrified of wearing a lot of makeup. With film, you have to get all the talent ready within like an hour, film crews don't like waiting, and they're on a tight schedule. Try and delay a fashion show and see if you ever get hired again. Behind the scenes is usually very chaotic, stressful and there are so many miscommunications. It's things like that, it's more than makeup, its personality, experience, intelligence, communication, and relating to your clients, makeup is a small part of all of that.
Q. What is your favorite brand of makeup?
A.  I can't say enough good things about Make Up For Ever. I told myself, if I were to ever work and dedicate myself to a brand, it would only be MUFE. To my surprise, a lot of people have never heard of it. It originated in France by Dany Sanz, at first she was a sculptor, but was then asked to do make up for a show. Long story short, she loved seeing her work come to life on stage and decided to make a genuinely, brilliant brand in 1984 and it spread like wildfire to other countries from word of mouth by her students. The quality is perfection. It's long wearing, pigmented and bendable. Every product has a logical purpose, and there are stories behind every product. The Aqua line was created for an underwater ballet, the makeup has been tested to last for 5 hours underwater. All 76 of their brush heads are sewn into the recycled wooded handle by a group of people whose families have been doing this for 5000 years (there are 30 people in this world that handcraft these brushes). MUFE was also the first professional brand to offer multi-ethnic product lines- they have a product for every single skin type and tone. Overall, I think I have the most respect for MUFE because it is not a pushy, social media obsessed brand, they do it for the love and passion of art and applying it as makeup.
Q. What is your advice to girls who are just starting out?
A. No matter what age they are, every girl I have applied makeup to have always said they either don't know how to apply it, or they want to learn how to do it. First, you need to evaluate when you'll be wearing it, are you going to be natural, simple, glamorous, dramatic? Determine your skin type, are you normal, dry, combo, oily? Research and read until you find a brand most suitable to you. Most brands correlate between their products and work best with each other. There is no way around it besides practicing and playing with the products.
Follow Kasey Surges
Twitter- KaseySurgess
Instagram- KaseySurges.MUA & MakeupbyKasey
Website- www.KaseysMakeupArtistry.com