About a year ago I decided that I wanted to try competing in a pageant. I thought it would be a great way to step outside my comfort zone, try something new, hopefully make a few friends along the way and gain public speaking and interview skills, so I applied for the Miss Illinois Teen USA 2016 pageant. In January I received a letter that I had been accepted to represent my hometown in the pageant, which took place this past labor day weekend. Once I had been accepted I realized I was going to need some help, so I starting looking for a pageant coach. I was so fortunate to have found Jonathan Abernathy of Platinum Images. We began working on interview skills, walking, stage presence, hairstyle, and wardrobe. For the pageant I was going to need an interview outfit, a one piece swimsuit and an evening gown. Lucky for me, Jonathan is not only a personal wardrobe stylist, he is a hair stylist and has had years of experience in judging pageants and pageant coaching so he was able to help me in all aspects of preparing for the pageant. By the time the pageant weekend arrived, thanks to Jonathan and Platinum Images, I felt prepared and ready to go out there and give it my best.
I can honestly say it was one of the best experiences of my life. I had heard girls talk about the friendships they had made during the pageant weekend and the wonderful memories they had and I was hoping to walk away from the weekend feeling the same way and I did! For Miss Illinois Teen USA, it is an all weekend event. I checked in on Friday morning at 8:00 a.m. and went straight into rehearsals for the preliminary competition that would take place that night at 8:00 a.m. I was so lucky to have Jonathan come to my house to go with me to registration, his support, encouragement and last minute hugs and well wishes were a great start to a great weekend. I met so many great girls over the weekend. More about that later. Friday night for the preliminary competition we modeled our evening gowns and swimsuits. I was nervous but so excited! Stepping out on the stage was one of the most memorable moments of my life. Looking out into the audience and knowing that my parents, my brother, Jonathan and my friends were there to support me put me at ease. It is no easy task walking in heels, stepping down stairs in a gown and making sure to remember the pattern all while smiling but I did it and I am so proud of myself and all the other girls. The thing about the girls that I met is that there is a sense of comradery with all of the girls, everyone is cheering each other on which really helps backstage and throughout the weekend.
Saturday we did photo shoots in our opening number dresses, our evening gowns and our swimsuits, and Saturday night was the Miss Illinois USA preliminary which is the older division and the teens went to watch and cheer them on. Sunday morning were the personal interviews with the judges which are done round robin style. You spend four minutes with five judges and it gives them a chance to get to know you. After the interviews are done the fifteen highest scores are announced on Monday at the final competition and crowning. We had rehearsals the rest of the day to learn an opening number dance and Sunday night there was a family reception for the contestants and their parents.
Monday morning we were up early and spent the morning rehearsing for the final competition at 2:00 p.m. After the opening number the 15 finalists were announced. I can't imagine how hard it was for the judges because all of the girls were beautiful, smart, funny and sweet girls. As I stood there with my heart beating so loud in my chest I tried to remember what my parents had told me, which was to take it all in, enjoy every minute of it and live in that moment. When my name was called, walking down the stairs to join the other contestants was a surreal moment for me and one I will never forget. We had to rush off stage and change into our swimsuits and then into our evening gowns and after that the final five were chosen. While I did not make the final five, I am incredibly honored to have been a semi finalist. After the final five were announced they each answered three questions on stage and the judges made their final decision and I am so happy to say that one of my best friends from the weekend was crowned Miss Illinois Teen USA 2016. Actually my four friends each were a star in their own right this weekend. My friend Jasmine was Most Photogenic, My friend Michelle received the Honorable Mention, My friend Caroline was first runner up and best swimsuit and last but not least Olivia was crowned(best interview too)! While all of that is pretty amazing and something we can all be proud of ourselves and each other for, the best thing I received that weekend besides the experience of being in the pageant was the four incredible friends I made and the memories I will forever hold in my heart and I want each of you to know how much you mean to me so here goes!
Jasmine, what can I say? You are a stunner but you are even more beautiful on the inside. You will never know how much it meant to me that through the mostly ups and even a few downs you were there for me. Is that a model or your boyfriend? I love you and I am so happy to have met you. I was not expecting to find my best friend at the pageant, but I know we will be close forever. I will never forget how excited I was when you won photogenic (mostly because I could steal your award, haha jk!). Last but not least I have one question for you, can I be you? Love you to the moon and back<3
PS-Thanks for picking me up when I fell up the stairs, but not before we laughed!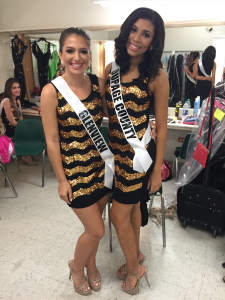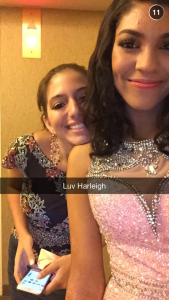 Olivia, aka Sherri, I am so proud of you. I know that you are going to take it all the way to top. You are so smart and funny and gorgeous but the best part about you is that you are genuine. I knew the minute I met you that you would be a great Miss Illinois Teen USA and I am as happy for you (well almost lol) as I would have been if it were me! When you were called as the winner, Jasmine and I could do nothing but cry and wipe each other tears. When we were congratulating you after you were crowned, all I could do was cry because I know how great you are going to be this year. You are the whole package, beauty, brains and a big heart. You are humble and I don't even know if you realize how gorgeous you are because you are so down to earth. I love that you are still the same Liv after winning as you were before, but I knew you would be that is just one of the things that I love about you! I can't wait to watch you kill it at nationals. #livforMissTeenUSA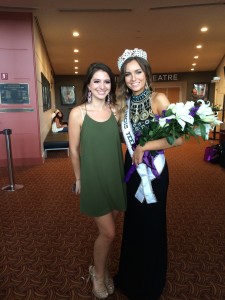 Michelle aka Mom, I love you to the moon and back. You are beautiful, and funny and so sweet. I can't tell you how happy I am to have been a member of your squad! You took me under your wing, you give great advice and thanks to you, we ate, LOL. I might be the baby but I know I'm your favorite. Don't drink the water btw…you might get bloated, and I have a very special headband for you.
Caroline, I am so proud of you, best swimsuit and first runner up! You are funny and beautiful and sweet and very down to earth. I have no doubt that someday I'll be watching you get crowned Miss USA. Don't give up your dreams because you have what it takes to achieve them.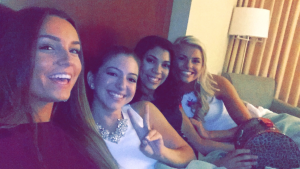 Gage, aka Dad, you and Michelle are seriously my relationship goals. I remember tricking you at first, but you STILL brought us Panera! You know I'm a sucker for strawberry smoothies. Thanks for making sure I didn't starve! I'm so happy I met you, and I will be making the million hour drive to see you and Michelle soon!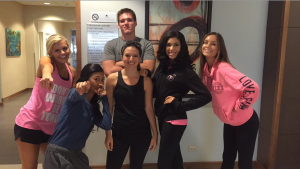 To everyone in the squad, I want you to know you are all exclusive. And also I want you to know that all of your stuff needs more beading, Sherri can provide you with that help. Also, thank you for helping me eat my food and providing me with foam blankets. I love you all.
Mom, Dad, and David, thank you all for your undying support. Seeing you guys in the audience makes me so much more confident knowing you guys are there for me. You guys are my rocks<3 I love you so much.
Kasey, Thank you for the endless makeup lessons. I know I wasn't always the most cooperative (like when you made me into a tree or when we learned special effects makeup). You are like the big sister I never had. I am a Makeup Forever pro now. Even if it was only water, I know I am a pro at airbrush makeup. The lizard misses you too <3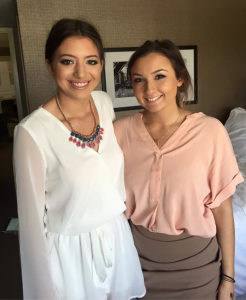 DJ, thank you for always coming out to support me. I love having you there for me and you and Jonathan and I are the trio. P.S. I bought you some bread and I will be painting your apartment.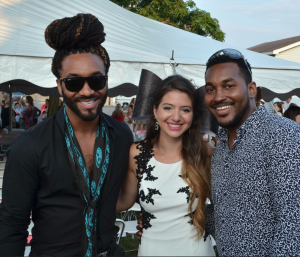 Jonathan, what can I say? You are my number 1 supporter. I don't know how I lived without you. You always know what to say when I'm not feeling the best or most confident. Having you there for me every step of the way is why I have gotten this far. We have some very funny memories ( BAbam Peacock), and every time we are together we have so much fun. What I love most is that you care about me as a person and not just a client. For this I am forever grateful <3 Thank you for being there for me. I am looking forward to what the future has in store for us as a team!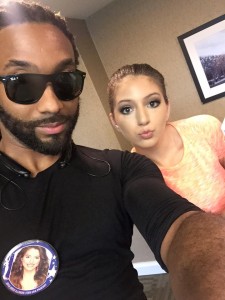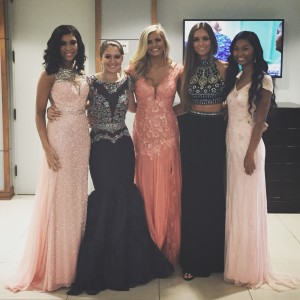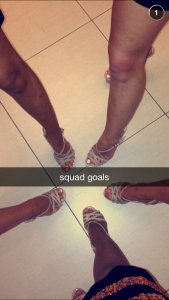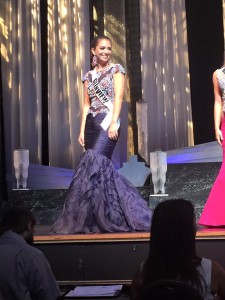 "Many people will walk in and out of your life, but only true friends will leave footprints in your heart."
Author: Eleanor Roosevelt
Thank all of you for the footprints in my heart ♥
Keep Sparkling!
XOXO,
Harleigh